Adrian Sol
Daily Stormer
February 3, 2020
The location of the heresy is… every school in America. A purge is long overdue.
Does America need to be purged?
Yes.
Obviously.
The real question is, will a purge even be enough? Can we straighten up merely by burning all the perverts and heretics, and keeping the skanks in line?
It's difficult to say. However, it's definitely worth trying.
And encouragingly enough, some small-scale purging seems to be occurring already.
Will they… burn these heretical faculties? Or just "fire" them?
Yet even with such soft measures, everyone is losing their minds.
Earlier this week, students, and faculty at the Watkins College of Art in Nashville, Tennessee, were shocked to learn that their school would be absorbed by Belmont University, a local Christian institution that has made national headlines over the last decade for allegedly retaliating against faculty who went against its strict code of faith.

"There is rage and there is fear," Quinn Dukes, an alumna of Watkins College who organized an online petition against the merger, tells Artnet News. "Students and faculty are losing both a history and a school."
In other words, their entire school, and their entire history, is anti-Christian. That's the only explanation for why the entire institution would be destroyed.
Considering that it's an "art" school, that wouldn't surprise me.
Sounds like the inquisition is going to have a field day with these people.
The open letter, which currently has more than 1,600 signatures, calls for academic and financial transparency from university leadership, as well as assurances that students will not experience censorship. Additionally, critics of the merger want to ensure that Watkins staff are provided severance if they are prevented from joining Belmont University, which requires that its faculty adhere to Christianity and does not hire teachers outside the religion.

"We do not hire people who are not Christian," Thomas Burns, Belmont's provost, clarified in a response to questions at a town hall on Wednesday. "So the ones who are not Christian will not be eligible to work at Belmont. That's just part of who we are."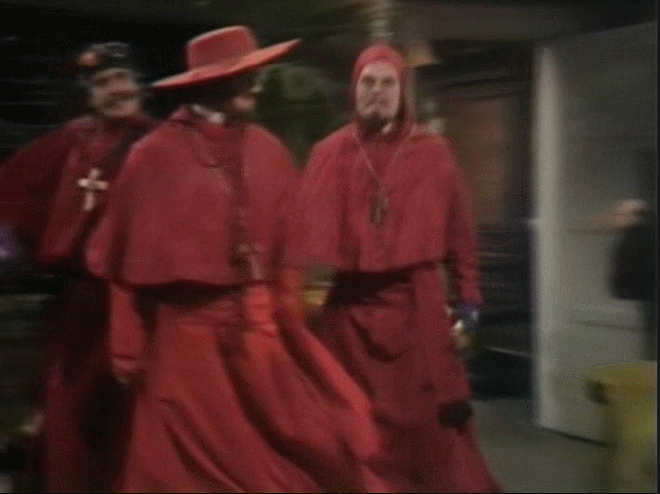 The letter follows a previous note circulated on Monday among students and faculty demanding a vote of no confidence for Watkins College president J. Kline, who has been accused of withholding information about the Belmont deal from the school body. In a statement, Kline defended the merger by saying it "secures the legacy and mission of Watkins for generations to come."

That sentiment was not shared by the majority of the student body. During a meeting on Tuesday morning with Kline, some students were openly crying at the loss of their school. One woman fainted. Another was so upset that she had to be helped out of the room.

"It broke my heart," Sasha Campbell, a junior, told Artnet News. "Watkins was my first choice."

LGBTQ students like Campbell, who identifies as bisexual and trans, are also worried about how welcoming a campus like Belmont will be for students like them, although the university does have a club for queer students.
Imagine hating Christianity so much that you'd faint and cry at the news that your preferred school has become a Christian institution. I guess getting a degree in "art" is more or less a joke anyway, and most students are probably joining up with these programs with the intention of having a 3-year sex and drug party.
In that sense, being in a "Christian university" would be something of a buzzkill.
Unfortunately, all these students have an easy way to escape being forced into a disciplined and righteous lifestyle – going to any other school in America.
We need to take this purge to the national level. Fire ALL degenerate professors, and forcefully turn art school whores into slave-brides for incels. Only then will America have a chance to walk the right path.